---
---
Buffalo River has been supplying hunters, sportsmen and farmers with a range of shooting accessories since 2001.  Today Buffalo River products are available in over 40 countries worldwide.
From gun safes & bipods, ammunition to hunting knives, Buffalo River have you covered.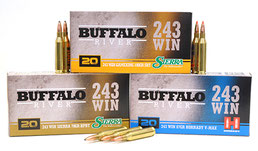 The Buffalo River 243 Win round is manufactured in Australia using the highly acclaimed and time-proven ADI propellants. The round exhibits consistent velocity across extreme temperatures, both hot and cold, while delivering accurate and highly effective performance to eclipse the game. The shooters at ADI range-shot the round over several 10-shot groups at 100m on an open range and produced group sizes less than half MOA.
---